Bringing Death Note back with the correct wig this time?
Maybe. Just for fun? ... yeah. yeah it is. :)
夜神 月
(Yagami Raito) -
minachiko
エル・ローライト
(L Lawliet) -
mana_blue_rose
ネイト・リバー
(Near, Nate River) -
ken_smind
Photographers:
Main:
ken_smind
(Big Thank You!)
Sub:
minachiko
;
mana_blue_rose
(
I will eat this potato chip
Collapse
)
I finished resizing and editing them. So here they are guys.
Current Mood:

awake

Current Music:

Late Night Alumini - Rainy Day
A big Thanks for all the photographers:
rare_dreamer
lady_arieta
thedreamerworld
& Sebastian
Special thanks to
rare_dreamer
&
lady_arieta
for sticking with us and especially to
rare_dreamer
for even going as far as to research on the series in order to give us this wonderful photo shoot.
Now to our wonderful little group:
Michiru Kita 紀多 みちる -
lady_arieta
Chika Akatsuki 赤月 知佳 -
minachiko
Shito Tachibana 橘 思徒 -
ken_smind
Yuuta 由詩 -
slightlysalted
&
mana_blue_rose
Reiichirou Shiba 芝 怜一朗 -
jackdaniel
ZOMBIE LOAN, THE MOVIE. COMING SOON IN THEATERS jkjkjkjkjk.
(
Zombie Loan - Chicken Shit, Cute Girl, BL Shota, BFF and cake
Collapse
)
Okay, time for some Zombie Loan of AUSA
Current Location:

home

Current Mood:

amused

Current Music:

sound of old man talking next to me
Thank you to:
Ken
- For all of your hard work, and all that you have done for us, especially the support you provided to me. I don't think I would have made it through the con without you, my old shit.
Ling
- Your support and love as always was something I could count on. Always. I don't think there are words I can express for this other than: Yu and Mi forever.
Annie
- Having you there was a blessing. Nothing would have been the same if you weren't there. My lovely Patchiri.
Magenta
- It was so good to hang out with you. You bring me so much joy, and you always some how manages to make me laugh. Mama sends you love.
Anita
- Your photos are utterly stunning, my King. I'm really sad we couldn't hang out more. We really have to change that. Just talking to you and having you there makes me happy and relaxed!
Dana
- No words for your sexiness. You read me so well and help me so much. The support you give me seriously is even bigger than that "Support" lol!! <3 I <3 you.
Ashley
- Your smile is so beautiful Luluko. It brightens my day. I miss you so much already.
River
- D: you poor poor thing... please feel better.
Heather
- My most wonderful sexy Shiba. you were so much help to me, and its so much more than me screaming BFF in that retarded voice. I don't think I would have wanted any other Shiba but you!
Jin
- *hugs* Hang in there. I know this con was so much stress for you, and I miss you terribly. But you toughed it out, wonderful as always. Please take good care of yourself.
Siham
- You did such an amazing job, I didn't get to see you much, but the work you did and the stress you had to handle. I am so incredibly proud of you. Take a long break and go shove some doughnut holes in your face. You deserve it!
Lyn
- Congratulations on your win daddy!! Son is so proud of you. Especially since I know how stressed you were before the con.
Judy
- It was so awesome to see you in your sexiness and full of colors!! You seriously bring colors to my day! <3 Can't wait to see you again!
Jackie
- *steals your hi-birdo* lol! I'm sad we couldn't hang out as long as we could. But I'm so glad to see you regardless. We really need to hang out!! Miss you~~ <3
Sebastien
- It was so awesome seeing you at the con, and thank you for taking our pictures! It was a lot of fun just talking and hanging, and I know you are just as tired as me, so take a break and relax.
Tiffany
- Your boobs win!!! <3 So good to see you and chat up!!
Vikki
- I didn't get to see you much other than keep running into you, but that was seriously hot stuff!! lololol!! YOUR HAIR IS NOT SYMMETRICAL!! LOL <3
Last but not least THANK YOU EVERYONE.
And a little tease of what will come:
Awesome Photographer: Anita
Aside from the need to pass out so horribly so. >_< AUSA was actually really fun. There were a lot of stress too, but I guess that comes and goes with cons. We did a lot of Zombie Loan. Which was insanely fun. A BIG THANKS for all of you who joined us, and for all of our photographers. I'm too lazy to use LJ names right now, so until I make a more final post this will have to do.
Current Location:

School

Current Music:

students walking by the classrooms
Fire Candy!
I love this manga to no end, and for so long now it deserves some lovin'
And I'm gonna make sure it gets some!
After this, I'm going to cosplay the Artbook version of Haru the minute I am capable.
You all should join me in the lovin'!!
(So many characters to chose from in this one)
I would like to Thank my lovely photographers:
Laura
soltian
&
rare_dreamer
And a shout out to my sexy Lloyd(Daddy, buy me shit) who is not in this shoot but,
but will be by the end of this summer if not earlier:
kissenliebe
Haru (Haruki)
-
minachiko
Tetsu (Tetsuya)
-
soltian
Akito
-
slightlysalted
(My darling "gay best friend guest appearance" hahaha!!)
(
Fire Candy - Where shit blows up and prostitutes wears flip flops
Collapse
)
(
Crack photos
Collapse
)
Okay my lovelies, I think it is way over due for me to post something
Current Location:

My room

Current Mood:

amused

Current Music:

Glass no Shounen - Kinki Kids

Aside from the "I like big robots and I cannot lie" opening in which all the characters wigging around on the screen with even MORE distorted body proportions(Thank you Clamp. We love you too.) the series became so distorted in terms of genre for me that I have no clue just what I was even watching anymore. (Animation directors, why don't you just give us stick figures with pretty elaborate clothing instead, it'll look about the same at this point.)

Geass, was notorious for being the series that I hated, then loved (oh SO VERY MUCH). Thus, even as I am still in love with it, I am now going to point, laugh and share my "keen" observations.

The truth behind the series. Unwritten rules

1. How important you are (how much screen time you get) is directly proportional to how much you can pose. - Lelouch is winning this Battle by FAR. I think he was staking claim. (you know, like the way animals pee in areas to claim their...) He's so fabulous, you won't know what hit you. Sometimes, I wondered if I was watching Princess Tutu or Code Geass.

2.Chinese people: Forsake your fashion sense, surrender now. There is no hope. In the future, we will all be wearing nothing but traditional robes designed by Tibetan mountain goats.
Although, the good news is, No need to worry about identifying our prime ministers (tribal leaders) anymore! :D They'll be the ones wearing face paints and sounding like Macy Gray.

3. (I) Chinese Boys, spent time investing in pliers. Your robes might look comfortable, but its a lie. They have magical transformation properties that sometimes mold so perfectly around your ass that it rapes you. It's like surprise butt sex every day.
Oh and, learn konfu, we all know konfu.
(II) Chinese Girls, I don't even know if Chinese females exists in this series yet, but I have a sicking feelings we better be prepared for some Baobaos.

4.It's good to know that Rom- I mean Britannia CAN be built (re-built) in one day.

5. Suzaku's got bitches, and he likes that. The opening hints (is) homo fan service. ... actually I think this entire episode was fan service. It's like an all you can eat buffet, homo, het, even some shota and loli in the mix.

5.Oh I love you Geass (Gay Ass), I love you just as much as I love making fun of you and cosplaying you. It's a special kind of love... just like you are a special kind of series...
I just thought I share, and make a record of something "amazing." The ep. 1 of Code Geass Season 2. Something I've waited for about half a year.
Current Location:

somewhere

Current Mood:

amused

Current Music:

random french songs.
As I pass in and out of consciousness right now, this will surface as a con report until my lungs stop hacking out mucus. I am sorry this is so late. D:
This Katsu, sadly enough, was not one of the more satisfyingly conventions. The reasons that caused it, I do not believe they are even worth mentioning at this point.
However, I would like to thank everyone for helping and being there.
It was still awesome to have spent time with everyone that I had seen.
I really wish I had more time to spent with all of you.
I will try to make a full report/list soon. :)
I am going to call this con Suzaku Con, cause that's all I ended up wearing. Haha.
Also, I finally caved under the pressure and made an ACParadise account. @_@
It is under: "WhiteLily"
For anyone who would like to see.
Thank you so much to
thedreamerworld
and Tiffany for the photo shoots.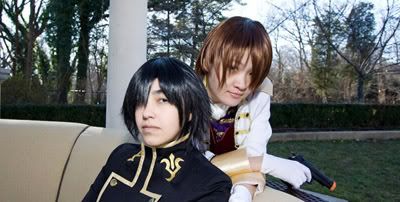 (
Code Geass Photo Shoots
Collapse
)
A change in layout on LJ.
Digimon Cosplay 2007: Just a group of friends, in a par, having fun! :)
Warning: Pure crack, just like Digimon is pure crack. SO SO much fun in a park.
I've wanted to cosplay Ken since forever, and I really hope to gather a big digimon group someday. <3 I would be more than happy to gather people. Imagine my surprise when Ling made me the Ken costume for my birthday last year!! <3 And Kat and Nechama combined to get me the horribly expensive wormon plushie!! <3 It touched my heart!! Thank you so much guys!!
When Kat commissioned me for Daisuke earlier this year, I couldn't be happier! And simply could not resist. It was so much fun making it! I still need to fix my collar for Ken, but it was so much fun cosplaying it. Nechama also made an adorable Takeru!! Thanks guys!!
Future plans in terms of Digimon: Totally doing more. :D And hopefully with more people! <3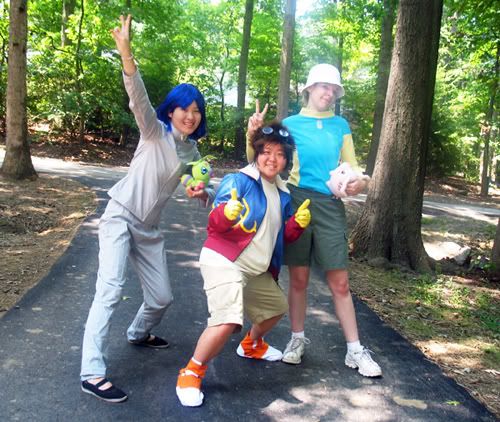 Digimon 02:
Ken Ichijouji -
minachiko
Daisuke Motomiya -
kissenliebe
Takeru Takaishi -
soltian
(
Digimon (Dork squad) 02: Digi-destined to da park yo!
Collapse
)
(
The DORK section!! XD
Collapse
)
More summer updates! :)
Current Location:

Far FAR away

Current Mood:

Giddy

Current Music:

Innocent Sorrow
I am really mad and ashamed of myself. At the same time I guess I really do like writing. It is good to have a conformation but it still doesn't change the fact that I rushed my way though a writing assignment that I really wanted to do well on. In a way it was an accident, but if I paid more attention to that messed up due date sheet. I wouldn't have had this problem. That adding on the current unexplainable family problems, it's making me very sad. I can't seem to concentrate and am now doing retarded things. Hopefully it will all slowly go back down the "correct road though." I pray. I will try my best!!! RAWR!
Current Location:

dorm

Current Mood:

weird

Current Music:

Egao no Wake
I will give a Katsucon report probably a little bit in the future. In the mean time. I will sent a funny face to all of you. As Ken Ichijouji!!! I give you! THE SQUISHY FACE!!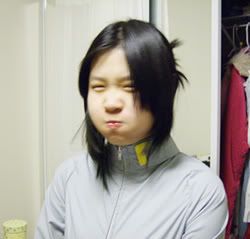 lol, I know Valentines day passed us by a while, but it is never too late to send love right? Even if it is internet love! :D Also Happy Chinese New Years everyone!! I hope everyone best wishes!!! For everyone who is having a sad day. I hope it will all get a little better, and all in all. Mimi loves you all and I believe in you. Everything will at least sparkle a little bit because of it. :D (Do not deny the Mimi)
Current Location:

dorm

Current Mood:

amused

Current Music:

key to my heart
Happy New Year everyone!!
Gone the old,
In the new,
Rejoyce my friends
With the morning dew.

I hope everyone will have a wonderful year to come and many greater things.
May the sorrows of past wash away, and the smiles of tomorrow bloom. Sweet dreams melancholy, good morning brand new day.

With love,
Mimi
Current Location:

home

Current Mood:

awake

Current Music:

the soft hum of a computer on my lap